Greetings from all of us at Mission of Hope: Rotifunk Hospital
In the midst of such challenging and uncertain times, we are eager to keep you informed of what your support is accomplishing in Rotifunk, Sierra Leone. Without you, our donors, Rotifunk
Hospital would not be able to continue saving lives and providing a healthy start to its most precious infants. In a world filled with turmoil and conflict, you have helped to create an oasis of peace, healing, and beauty: a hope for better days to come.
Thank you!
— Pam Moffett
---
SUMMER 2020 UPDATE OF THE MADONNA PROGRAM
Written By Sam Spicer
Purpose
Mission of Hope is working on a goal of "healthy mothers, healthy babies" in Rotifunk, Sierra Leone. This 12 month pilot program of no-charge for pregnancy care and hospital delivery is
seeking to greatly lessen maternal and infant morbidity and mortality.
Program
Some of the offerings to the pregnant ladies in Rotifunk and surrounding villages include weekly outreach clinics with screenings for active medical disease and obstetric risk factors, including lab testing; all at no charge. Antenatal clinics at the hospital will include treatment of disease, ultrasounds, as well as classes on nutrition, pregnancy, and child care. Patients with severe risks/symptoms will be admitted to the hospital until 3 days post delivery. A 6 weeks post delivery checkup is included. At both discharge from the hospital and at their checkup, a distribution of 25 pounds of rice is given, which serves as a great incentive for patient compliance.
Results
The program was initiated in mid October 2019 and fully developed with inclusion of Rotifunk population in January 2020.
An increase in the number of pregnant women seeking maternity care as measured by women attending antenatal Clinic (ANC)
Part of the outreach process is to ensure access to the hospital ANC clinic. Difficulties with transportation, child care for a whole day, meals, ferry access, monsoon rain, etc., are a few
of the obstacles these women experience. Lack of outreach has had a negative impact. In May 2020, Covid-19 restrictions resulted in just one out reach for the month and a low ANC of 54 visits.
Details
The medical providers of care at Rotifunk Hospital will collaborate with MOH and Haugesund Rotifunk (HR) to reduce barriers of care for all pregnant women.
Specific items are specified below.
A maternity women outreach to the Bumpeh Chiefdom weekly to screen pregnant women for active medical disease and obstetric risk factors (MOH) with no-charge to the patient including lab testing testing.
Outpatient acute disease or critical risk factors will be treated until the next Rotifunk Antenatal Clinic (ANC) visit. Those with severe symptoms will be admitted to the hospital (MOH).
All outreach pregnant women if enrolled will be referred to (ANC) for completion of screening process witch includes an abdominal ultrasound.
Nutrition and food prep teaching will be offered during residential care.
Three milestones will be established to assist level of services provided.

Antepartum through hospital admission
Hospital admission thru delivery
Delivery thru 6 weeks check up

The end of milestones 2 and 3 will have a rice distribution of 12.5 kg each.
Improved mortality and morbidity of pregnant women as measured by increased number of hospital deliveries.
Summary
Outreach and high quality medical care have produced a better outcome for women and babies in the Rotifunk and the Bumpeh Chiefdom. Access to care, rice incentives and zero cost of medical care are key ingredients to the success.
---
Hospital Sustainability Becoming a Reality
Written by Dale Smith
From the very beginning, Mission of Hope has had a goal of helping Rotifunk Hospital become increasingly self-sustaining. In addition to encouraging the hospital to charge what it can for
services and drugs we launched an effort to find other sources of income. One such effort resulted in partnering with Rotary International to develop an income producing orchard and farm in the Bumpeh Chiefdom.
Developing this orchard has also been a longstanding dream of Paramount Chief, Charles Caulker. Two successive Rotary grants have provided funding to develop and sustain a sixtyacre orchard, fifteen acres of which will support the hospital, and an adjacent garden. These two projects will produce profits in three years which will go toward quality education and hospital
services to Bumpeh Chiefdom citizens.
The following letter from Chief Caulker will give you some indication of how excited he is and how important this project is.
"My dream for a better future for my chiefdom is gradually becoming a bold reality. The dream calls for the empowerment and transformation of Bumpeh Chiefdom through quality education to produce a viable middle class capable of efficiently delivering desired services and goods.
Today, the Chiefdom boasts of a sixty-acre orchard of diverse economic tree crops that will mature in three years' time for harvest. The orchard will fetch income to support and sustain our education program at least for the life time of the trees (many 20+ years), and even further with a solid plan for tree replacement and orchard expansion."
"The community has been energized by seeing these accomplishments. They have begun to take personal leadership of their own personal development agendas. In short, they have been urged by the emerging circumstances to double their efforts and become more steadfast to their commitment to grow economic tree crops."
"This points to a future where cottage industries can add value to local produce by processing fruit into pup and juice, grinding cassava into gari and milling rice. This can be the basis of growing a middle class based on agriculture."
Chief Caulker goes on to thank Rotary International, the Sherbro Foundation and the Ann Arbor and Wilmington Rotary Clubs.
---
Mohamed Mousa-Tommy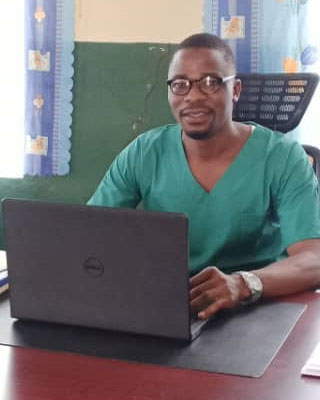 This month we highlight our new surgical officer, Mohamed Mousa-Tommy. "Tommy" is 34 years old and originally from Kenema in Eastern Sierra Leone near the Liberian border. His past medical career includes practicing as a CHO(Clinician) for 5 years at one of the UMC Health Centers in Kono. He then attended the CAPACARE-Norwegian Surgical Training Program for 3 years at Masanga; graduating in 2018. He now holds a post-graduate diploma in GENERAL SURGERY AND ADVANCED OBSTETRICS & GYNAECOLOGY.
Tommy is an experienced Clinician and Surgical Officer who has done many surgeries at HAMH since his hire in November 2019 with no postoperative complications. He has also delivered many new babies at HAMH, including more complicated deliveries for which a midwife requests assistance, and performed C-Section surgical deliveries.
During his teenage years, Tommy attended The Government Secondary School in Bo, where he sat for the West Africa Senior School Certificate Examination (WASSCE) and later attended Njala University, concentrating in Community Health and Clinical Sciences. He graduated as a Community Health Officer (CHO)/Clinician in 2012.
Tommy's great character includes being an extremely disciplined individual, and showing kindness and friendship to all. At HAMH, he is in charge of the Madonna Project for pregnant moms, his favorite program, for which he displays great passion and enthusiasm, along with many other responsibilities.
Outside the hospital, Tommy loves football (soccer), especially on weekends, and plays it very well. Tommy is married and has a 3-year old daughter. His wife, Salamatu, holds a degree in
Public Health.
Tommy loves his work in Rotifunk at the hospital and does it with great dedication. His acceptance of the position at HAMH and the many talents he brought with him is deeply appreciated by the community. We at Mission of Hope are delighted with his presence and exceptional skills, and look forward to a long-term relationship. We particularly applaud him for managing our sponsored Madonna Project with great success!
---
New House Under Construction for Rotifunk Hospital Physician
Written by Donna Hudson
Some of you may recall that in early 2018, the physician house on the Rotifunk Hospital compound burned to its foundation. Villagers living behind the house were burning brush when the fire quickly got out of control and spread through the border fence, destroying the house.
Since that time, the physician has been living in a room in the Haugesund House, which was built and designed for mission trip members. While it is a wonderful experience for mission members to spend time with the doctor in the evenings after his or her day in the hospital, privacy, convenience and space concerns have been ongoing issues.
After 2 years of fundraising, construction of a new physician house was started in May, 2020. Progress has been steady, despite travel restrictions due to COVID-19 and unbearably hot weather. Materials were purchased in Rotifunk, if available, and the digging of the foundation was done by hand by laborers from the village. Our faithful friend, Memsor,( the woman who makes the amazing tote bags we sell) supervised the molding of the bricks out of a good mixture of cement. The contractor is from the capital city of Sierra Leone, Freetown, and he has supervisors at the site on a daily basis. Progress has been steady.
When completed, the doctor and his family will have their own home and the Haugesund House will have 3 bedrooms for visiting mission teams. A "home" run for everyone! Employment for local workers, a new house for the doctor and more room for mission team members!
---
Kids Helping Kids
Written by Lorraine Garrison
Big Blue Marble Academy preschools nurture little minds while they also grow BIG hearts. Big Blue Marble's education program helps young children appreciate other cultures through their focus on global awareness and their service-learning component teaches the children who attend Big Blue Marble invaluable lessons in compassion and active participation in helping others.
This last school year Big Blue Marble Academy sponsored two fund raisers to help pregnant mothers and their babies in Rotifunk, Sierra Leone. And the total raised–$13,132, for Mission of Hope's Madonna Project shows what even young children and their families can accomplish when they work together for a common cause. Even during a Global Pandemic, the children and families of Big Blue Marble continued to focus on their commitment to collect change for The Madonna Project.
We at Mission of Hope Rotifunk are grateful that Big Blue Marble Academy chose The Madonna Project as one of their "Heart" projects this year.
THE CHILDREN AT BIG BLUE MARBLE ARE OUR HEROES!
---
A GREAT BIG THANK YOU TO GINNY AND ERIC PETERSON FOR MAKING OUR BRAND NEW VIDEO ON THE MADONNA PROJECT!
You can view it here!